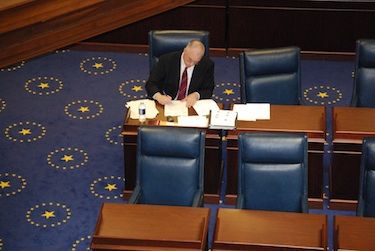 Mike is a fiscal conservative who has pledged not to vote for any tax increases for Hoosiers. Most recently, Mike has led the fight against tolling on I-465. With the passing of the gas tax increase last session, which Mike voted against, tolling on I-465 would amount to double taxation. Government needs to learn to live within its means, just like every Hoosier.

Senator Delph has not only pledged that he won't vote for a tax increase, but he has also worked hard to lower already existing taxes in order to create a better living and jobs climate in Indiana. These tax reductions include:
The Individual Income Tax Reduction in 2013 which reduced the state income tax by 5%, taking effect in 2017. This will inject more than $250 million into Indiana's private sector each year.
The Corporate Income Tax Reduction in 2011 and 2014. We are in the middle of a multi-year phasedown of our corporate income tax rate from 7.5% to 4.9%. In 2021, when fully phased in, Indiana will have the fourth lowest rate in the nation.
The Inheritance Tax Elimination in 2013 ended the death tax burden for Hoosiers, which made it especially hard for farmers and other small business owners to pass on their operations to their family members.
The Property Tax Caps, which were added to the state constitution in 2010 were designed to constitutionally protect Hoosiers from outrageous property tax increases, which in some cases caused citizens to lose their homes. It also provided for a predictable, low-tax environment for employers doing business in Indiana.
Senator Delph will continue to fight against tax increases and strive to lower taxes so that all Hoosiers can keep more of their money, allowing our economy to grow and families to prosper.