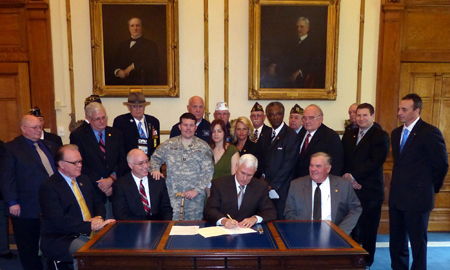 Mike has worked throughout his years in the Senate to make sure that Indiana is watching out for its veterans. In 2006, he carried into law and helped establish the Indiana Military Relief Fund which helps families in financial need who have had a soldier, sailor, airman, or marine mobilized in support of our nation's military operations. This was funded in part by the Support Our Troops license plate, which was the idea of Mike's wife, Beth.
As Chairman of the Senate Committee on Veterans' Affairs and the Military, Senator Delph has led the effort to create a statewide pilot project to help treat veterans with Post-Traumatic Stress Disorder.

In 2009, Mike received a request from a Vietnam Veteran and Purple Heart recipient, asking him to consider tuition assistance for all Purple Heart recipients. Today, due to Mike's efforts, any service member wounded in combat can attend any in-state school tuition free.
Senator Delph sponsored SB 564, which gives our veterans preference on state awarded contracts.
Mike also sponsored SB 354, which established the Women Veteran's Program designed to assist our female Hoosier veterans in a variety of areas.
Because of Mike's efforts on behalf of our veterans, he has twice been awarded the Distinguished Public Service Award from the American Legion in 2006 and 2013. He was also named the Legislator of the Year in 2006 by the Disabled American Veterans.