Senator Delph has been a leader in the Senate for government reform. He has introduced a comprehensive gift ban which would prohibit members of the Indiana General Assembly from receiving any gift from a special interest group. Currently, legislators are permitted to receive unlimited gifts such as tickets to sporting and entertainment events. Mike believes passing such a gift ban is prudent for the public trust.
Mike has been a leader in the Indiana Senate for redistricting reform. For the past several sessions he has introduced comprehensive reform that includes amending our state constitution. Currently the Indiana State Constitution mandates that the General Assembly draws the districts for state and congressional districts, which is why an amendment is needed as part of the reform package. Senator Delph believes voters should choose their elected officials; elected officials should not choose their voters.

Mike was the Senate sponsor for HB 1362, one of the most dramatic reforms in Title 36 of Indiana Code. This allows local governments to reform, consolidate, share services, or really create whatever type of arrangement can be conceived by the imagination. The Town of Zionsville was the first to successfully implement this statute by merging with Eagle and Union Townships.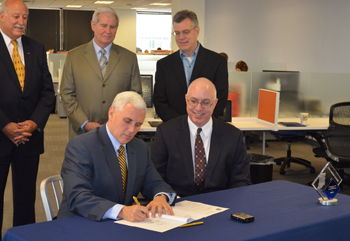 SB 162, which Mike carried in 2013, is designed to bring transparency to the Indiana Economic Development Corporation. This organization has the power to use taxpayer resources to encourage businesses to locate in Indiana. While the IEDC previously was able to conduct their business in private, SB162 allows for the citizens to now be better informed as to how their tax money and public resources are being used to incentivize private business here in Indiana.
In 2010, Mike received the Mr. Clean Award from Common Cause of Indiana for outstanding leadership in the areas of ethics, lobbying, and redistricting reform.