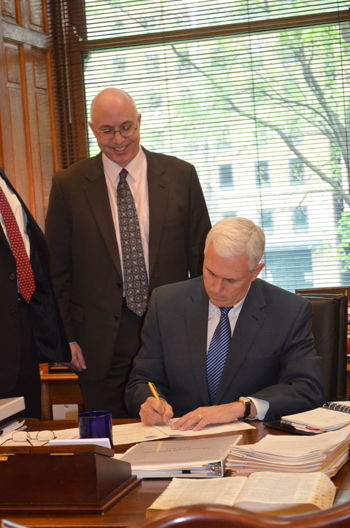 Senator Delph is a strong proponent of School Choice. Every child is different and learns differently. Parents should be the determiners of what education choice is best for their child, whether it's a traditional public school, online charter school, home school, or a private parochial education. Mike is proud to have supported legislation and initiatives that have made Indiana a leader in School Choice. The Choice Scholarship voucher program (2011 and 2013) is the largest in the country, with over 34,000 children enrolled in 2016-17. This program helps low- and middle-income families afford private school options for their children.

In 2013, Senator Delph authored SB189, which allows regulatory flexibility for "Performance Qualified Schools." These schools, which have been rated among the best in the state, are now able to make administrative and calendar adjustments which will best serve their students.
Making college achievable for Hoosiers is important to Mike. In 2012, he co-authored SB182, which makes credit transfers among Indiana's state universities easier for our Hoosier students. This allows students who must move or transfer to maintain credits for which they've already earned and paid.
Mike is always mindful of the need to keep college costs reasonable for Hoosiers. He is constantly on the watch for tuition increases at our state universities and holds those institutions accountable for their use of taxpayers' money.
In an effort to give families back more control over their calendars and time together, Mike has sponsored legislation to move the school start date well beyond the first week of August, preferably after Labor Day.