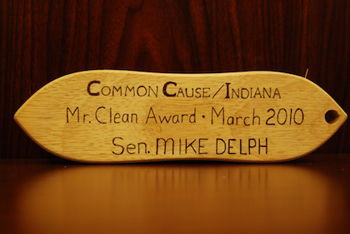 Common Cause of Indiana named Mike as one of only two Legislators of the Year in 2010, awarding him its "Mr. Clean Award" for his leadership in the areas of ethics reform, lobbying reform, and redistricting reform.

2014 Legislator of the Year by the Indiana Family Institute.

2010 Eagle Award from the State and National Eagle Forum in "Appreciation of Dedicated Work for God, Family and Country."
In 2006 Mike was named Legislator of the Year by the Disabled American Veterans.
In 2006 and again in 2013, Mike received the Distinguished Public Service Award from the American Legion.
Mike also was named a Judge Cale J. Holder Merit Scholar for the 2010-2011 academic year.
In 2005 and again in 2016, Mike received the Indiana Sagamore of the Wabash Award.
Mike's Military Awards include: Two Army Commendation Medals, one Army Achievement Medal, one Joint Service Achievement Medal, two Army Reserve Component Achievement Medals, National Defense Service Medal, Army Service Ribbon, and the Global War on Terror Service Medal.